Bumerang was the inspiration of Artis Visio designers to create the RIVALL tile design. The simplification of the element to a repetitive, geometrical shape, surprised everyone visually. Designed in 2010, they are constantly recognized and demanded.
A very strong advantage of the element is the fact that the geometric form allows you to combine it in various layouts.
Examples of tile layouts can be found on cataloges products. There are only 3 systems presented, all of them in a different character, starting with horizontal systems emphasizing linearity through linear vertical systems. What's more, the combination of the long side, sets a pattern in a rosette alike, concentrically, where there is not such a strong linear rhythm, but nests and strong point accents. Additional 3d effect, in a soothing form, creates a subtle and non-imposing figure on the wall. Of course, like other products, the technology is GRC architectural concrete. We, therefore, receive credible and authentic material, and the tendencies for tonal variation within one collection of emphasized characters.
Artis Visio deliberately pursues the policy of a high standard of technological regime while maintaining the naturalness of concrete aesthetics. Therefore, the possible colour tonal differences, smudges and stains are not corrected. This product also has no defined and defined porosity. The material from which we create tiles is architectural concrete with a variety of porosity, which emphasizes the nature of the material and is its natural feature. The final effect of the surface can therefore be variable, and the porosity is different.

Concrete tiles or also called decorative Rivall , are typical wall cladding, decorative, hence they are used as a decorative, architectural detail. They are perfect for public space projects, an example is the use of them in restaurants, offices, public building halls, beauty salons, stores or also gyms. An example can be found in the gym network & nbsp; City Fit, in which this tile is inscribed in the interior design.

The product, however, has full frost resistance, and thus the area of ​​its use is not limited to the interior. Additional features also give you colour combinations such as grey, white and black basic palettes or choose any colour. These are individual solutions, but it may be worth walking away from plain styles like the only grey.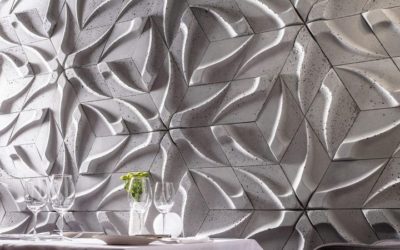 Płytki betonowe model TZARA to jeden z naszych najbardziej rozpoznawalnych produktów z betonu architektonicznego 3d. Stworzony w 2011 roku wzór, od razu został dobrze przyjęty wśród inwestorów i architektów. Do dnia dzisiejszego zaskakuje oryginalnością, ciągle świeżym designem i możliwościami wzorniczymi.
similar products in the same category
years at architectural concrete market
export range
by countries
export range
by continents