The SERPENTE pattern is made of concrete with dual-use thanks to GRC technology.
The architectural concrete used gives them such versatile application possibilities.
This solution for both floors – thanks to the flat surface of the tile and its technical strength, as well as the walls. Soft decor, decorative tile made of architectural concrete, reference to the classic pattern. Antique ceramic tiles, or dragon scales, is the space in which Serpente fits. Serpente ll decorates, both minimalist interiors and combined with wood will give the interior a rustic character.
Interesting effects also include the use of thick cement joints, thus obtaining the climate of old farmhouses and residences.
Architectural concrete tiles are material with very high technical strength. It has a thickness of 1 cm and very high frost resistance & nbsp; which allows it to be used successfully also outdoors.
All technical information in product card.
We offer a product in colours:
white, light grey, grey, anthracite, black, and rusty.
Tiles are made in forming processes, with natural ingredients, which affects the nature of the material. Thanks to this, it is possible to change colour, discolouration, streaks. The material is architectural concrete, that is why the occurrence of pores and voids is irregular, and their appearance on the edge of the element is a natural process and a material feature of its own.
The colours shown are only illustrative colours.
The product is assembled by glueing, following the assembly instructions supplied with the ordered product.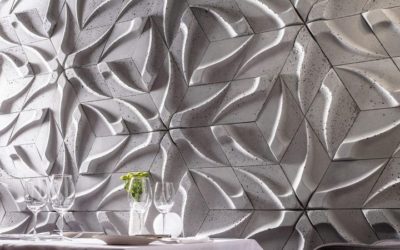 Płytki betonowe model TZARA to jeden z naszych najbardziej rozpoznawalnych produktów z betonu architektonicznego 3d. Stworzony w 2011 roku wzór, od razu został dobrze przyjęty wśród inwestorów i architektów. Do dnia dzisiejszego zaskakuje oryginalnością, ciągle świeżym designem i możliwościami wzorniczymi.
similar products in the same category
years at architectural concrete market
export range
by countries
export range
by continents